So as you all know my life has been revolved around cleaning the mess that is the office! I haven't been able to find a few things in the office due to me finally cleaning out my bed room. So here I am trying to take back the office.
You all might remember this photo from another earlier blog...
Well I have been working on it a bit. I love moving things around it makes the place feel like new so I have been working on getting this office to open up a bit in size. I know I got rid of the mattress that was on the floor for my guest who visited over a month ago now.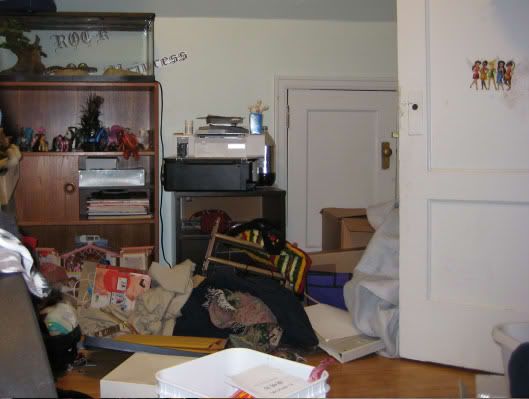 Just getting rid of that piece of furniture helped a lot. It is coming back in here though but I will be leaning it against the wall there under the ROCK PRINCESS sign. That will allow me to have a place for guests to camp out.
Oh look my fabric bin! That thing is PURE love to me. Any ways this is the mess as it stands this second. I am done for a bit, the dust bunnies plus my asthma = hate!